Joint statement of Tajik Civil Society organizations in connection with the detention of lawyer Shuhrat Qudratov
Submitted by

admin

on 28.07.2014 - 21:33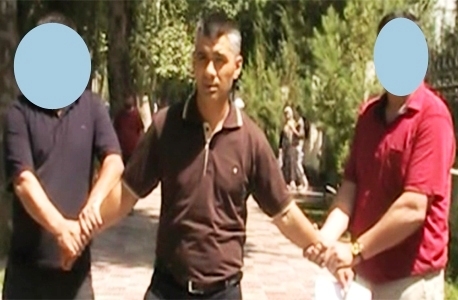 Tajikistani Civil Society organizations, representatives of the bar associations, as well as members of the NGO Coalition against Torture in Tajikistan express serious concern about the increasing number of cases of detentions of lawyers dealing with criminal cases that are of public interest.
An official statement issued by the Tajikistani Agency for State Financial Control and Combating Corruption on 23 July 2014 stated that lawyer Shukhrat Qudratov was arrested on 21 July when allegedly taking a bribe from his client Amirali Sulamaev, who is accused of fraud. According to the statement, Mr. Qudratov intended to pass on this bribe to one of the judges of the Ismoili Somoni District Court of Dushanbe "in order to ensure an acquittal verdict of the court".
On these grounds, a criminal case was launched against Mr. Qudratov under article 36 (that sets out different types of accomplices in a crime), article 32 ("Preparation for a Crime and an Attempt to Commit a Crime") and article 320 ("Bribery") of the Criminal Code of the Republic of Tajikistan.
Shukhrat Kudratov is one of the lawyers of the businessman Zaid Saidov, who was previously convicted by the Supreme Court of the Republic of Tajikistan to 26 years in prison for a series of crimes. It is worth noting that Shukhrat Qudratov also represented the interests of other prominent public figures such as former Minister of Internal Affairs Yakub Salimov; businessman Maruf Okhunov; Dilovarsho Kosimov, who was charged with murdering the Tajikistani president's brother-in law and Director of the state company "Forestry and Hunting" Kholmumin Safarov. Likewise he represented the information agency "Asia-Plus" in a number of high-profile civil cases.
On 15 July 2014, Shukhrat Qudratov sent an appeal to foreign parliaments and governments, foreign embassies accredited in Tajikistan and international human rights organizations in which he highlighted the ongoing persecution of Zaid Saidov's legal team. In his appeal, Mr. Qudratov wrote: "One of the lawyers – Fakhriddin Zokirov was arrested for allegedly failing to pay off a bank debt and is currently held in custody for the fifth month. Another one – the author of this appeal, was ordered by court, without any legal grounds and on the basis of illegal wiretapping of his mobile phone carried out by the special services, to pay material costs at an amount that is unprecedented in national judicial practice and does not comply with the economic realities of the country and in particular the financial capacities of lawyers".
It should be noted that on 7 March 2014, the Agency for State Financial Control and Combating Corruption arrested lawyer Fahriddin Zokirov on suspicion of fraud. Along with Shukhrat Qudratov and Ishoq Tabarov he has represented the interests of Zaid Saidov.
The lawyers involved in Saidov's case have reported facing ongoing harassment, threats and persecution during the investigation and the trial, as well as after the handing down of the court verdict. Media have repeatedly published statements in connection with threats to the lawyers and their family members.
In his report on the role of lawyers in the administration of justice, the UN Special Rapporteur on the independence of judges and lawyers stated that lawyers should not be associated with their clients or their clients' affairs and that they should not be prosecuted for any lawful actions they carry out when carrying out their professional duties.
Principle 16 of the Basic Principles on the Role of Lawyers provides that "Governments shall ensure that lawyers (a) are able to perform all of their professional functions without intimidation, hindrance, harassment or improper interference; (b) are able to travel and to consult with their clients freely both within their own country and abroad; and (c) shall not suffer, or be threatened with, prosecution or administrative, economic or other sanctions for any action taken in accordance with recognized professional duties, standards and ethics".
Impunity for the persecution of lawyers also has a negative impact on other lawyers, undermining the quality of their work by forcing them to give up certain cases and working in fear of their lives and in fear for the well-being of their families, who may be at risk as well.
Tajikistani Civil Society organizations, representatives of bar associations, as well as the members of NGO Coalition against Torture in Tajikistan call on the Tajikistani authorities to:
- Impartially and objectively investigate the cases of Shukhrat Qudratov and Fakhriddin Zokirov, without associating the cases against them with their professional activities, particularly their work on cases of a political character;
- Abide by national and international norms recognized by Tajikistan and abandon the practice of persecuting lawyers and putting them under pressure for their professional activities;
- Refrain from direct or indirect interference in the work of lawyers, as well as from any form of repression against them;
- In cases when lawyers are detained, ensure that the relevant Bar Association and the public are immediately informed about the reasons for these detentions and that the lawyers concerned are granted immediate access to a lawyer, in addition to complying with other obligations of the state set out by law.
Association of Pamir Lawyers
Bureau for Human Rights and Rule of Law
Collegium of Advocates of Kulob
Collegium of Advocates of Sugd
Human Rights Center
Human Rights Defense Group "Amparo"               
Independent Center for Human Rights Protection
Independent School of Journalism "Tajikistan – 21st century"
Public Foundation "Nota Bene"
Public Foundation "Justice Initiative"
Office of Civil Freedoms
Right and Prosperity
Akhmadov R.M., lawyer
Bobonazarova Oynihol, Director of the PO "Perspektiva Plus"
Juraev Dilshod, lawyer
Karimova M.S., member of the Republican Collegium of Advocates
Saburov J.L., lawyer
Samadova Dilafruz, lawyer
24 July 2014