The NGO Coalition against Torture calls on the Tajikistani authorities to promptly investigate police actions during Hindu spring festival celebrations in Dushanbe
Submitted by

moderator

on 24.05.2016 - 14:54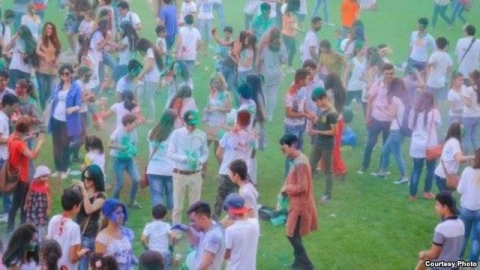 Tajikistan's NGO Coalition against Torture is concerned by the growing number of reports circulated in local media and social networks about the arrest and alleged abuse by police of more than 100 participants (including underage children) of the Holi Party Hindu spring festival held in Dushanbe on 15 May 2016.
Law enforcement agencies claimed that the celebrations were not agreed with local officials and therefore were not sanctioned. However, according to the festival organizer, the NGO "Alegria", the event – which was held for the fourth time and took place at Spartak Stadium supervised by the Interior Ministry – had been agreed with local officials, in accordance with the country's law on assemblies, which requires organizers of public events to notify authorities in advance. Law enforcement authorities also reportedly targeted and detained participants who had coloured their faces for the celebrations, claiming that this was "sinful action for Muslims".
Festival participants who were apprehended were held for more than two hours before being released without charge. Their detention gives rise to concerns about arbitrary detention. Moreover, there are well-founded allegations that detained participants were subjected to ill-treatment. Representatives of civil society have obtained a 16-minute audio recording during which male voices [believed to be those of law enforcement officials] can be heard swearing and insulting festival participants in connection with detentions and there are sounds of apparent physical abuse of detainees. The recording also includes the voice of a young woman pleading for mercy and claiming that she was not aware that their actions "were unlawful".
The recording was carefully studied by lawyers of the Coalition against Torture, who estimated hearing 25 slaps during the 16 minutes recorded. The Coalition against Torture has numerously encouraged the purported victims of the ill-treatment to file complaints against the law enforcement officers and offered to represent them in court pro bono. However, so far, victims have refrained from filing complaints out of fear of reprisals. 
The NGO Coalition against Torture reminds the Tajikistani authorities of their obligations under national law and international human rights law to respect the rights to freedom of peaceful assembly, freedom of religion, liberty and security and freedom from torture and calls on the authorities to promptly, thoroughly and impartially investigate all allegations of violations of these rights of the participants in the Hindu spring festival. The Coalition welcomes the statement of the Ministry of Interior from 23 of May, saying that an investigation will be opened into the allegations of ill-treatment against detainees and emphasizes the importance of ensuring that all officials responsible for violations are held accountable.
Log in to post comments

1540 reads